OTP Tickets Travel Card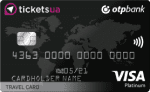 OTP TICKETS TRAVEL CARD!
Up to 99% off travels
Discount tickets
How to save on a railway ticket
Plan in advance

Use the discount of up to 15% when you plan your train journey in advance
Buy round-trip tickets

Get a 10% discount on the Intercity+ trains when you buy round-trip tickets
The day matters

Save 10% from tickets depending on the day of the week and of the month
Searching for train tickets to Priostern.? Can't stand long lines and need to get rail tickets to Priostern. on time? Train tickets to Priostern. are sold by online service at Tickets.ua which sells tickets to any destination served by Ukrainian Railways. To find cost of train tickets to Priostern., just enter departure date and number of passengers. Buy railway tickets to Priostern. at Tickets.ua
Bus tickets Priostern.